Advisor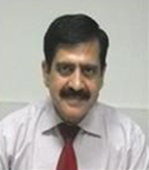 Ajay Chaudhari, Veteran (Lt Col), RCS Certified Coach has over three decades work experience in the areas of HR, Operations, Consulting, Coaching, Assessment Centres, Development Centres and Training.
Ajay Chaudhari is an alumnus of the prestigious National Defence Academy and has rich experience across industries, including the defence, hospitality, manufacturing, ITES and educational industries. An MBA in HRM & PM, he has worked in the General Management of companies in leadership roles in India and the Middle East. He has played key roles in the areas of Organisational Development, business growth, managing change & setting up new establishments.
He is a certified trainer (Instructor in Gunnery) from School of Artillery and has conducted innumerable sessions on leadership, teamwork, man management, motivation etc. for officers and Other Ranks in the Indian Army and also in the corporate. Ajay was part of the Indian Peace Keeping Force in Sri Lanka where he was awarded the Commander-in-Chief's Commendation for Exceptional Service and Devotion to Duty. He partook in the Kargil Operations and has also served in various insurgent infested areas in North East and North India. He has served on the training team for training the Royal Bhutanese Army.
Ajay is keenly interested in human behaviour. A Trained Behavioural Analyst, his expertise lies in Skill Building and Behavioural Modification. He is also a certified Pranic Healer. As a trainer, he focuses on providing opportunities for experiential learning for his participants. He creates an environment wherein they can hone their ability to identify and autonomously generate solutions to address their problems. Ajay cares passionately about the people he works with and combines his experience and depth of expertise with a user friendly approach.
As a Coach Ajay has coached senior leadership and mid-level managers and specialises in the fields of performance, personal effectiveness, growth, change management & leadership. He encourages and assists his coachees to develop their thinking visualise their goals and develop actions accordingly.
He has designed and conducted trainings in myriad companies, including IBM, HP, Infosys, Maruti Suzuki India Limited, HMSI (Honda), Suzuki, Sony India, Cheil (Samsung), Havells, SAIL, L & T Infotech, L & T, Deutsche Bank, HDFC Bank, ICICI Bank, Baxter India, Jabong, Snapdeal, Motherson Automotive Technologies & Engg (MATE), Cooper Standard, Britannia India, Asian Paints, Pepsico, Mushashi, Volvo Eicher Commercial Vehicles, IFFCO, GAIL, HaldorTopsoe, JBM, Bridgestone etc. to name a few.
He is an empanelled trainer for Robin Sharma's Lead Without A Title Workshop.
Ajay has an insatiable hunger for knowledge & self-improvement and takes on challenges head-on. His interests lie in driving, reading, listening to music, collecting pens, collecting foreign currency, graphology & badminton.